Check out one of our website designs, Tru-Clean Wash Solutions! https://www.trucleanwashsolutions.com/
A simple, clean design made to capture the eye of customers created in our software, Justine. Don't believe it? Just see what the owner of Tru-Clean said!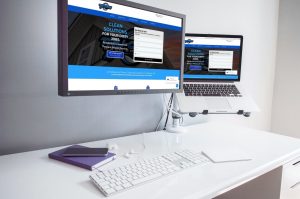 "If you are a business looking to grow your customer base, look no further than the Ultimate Online Marketing team! They offer quality, professional service with a personal touch. They care about their clients and want to see them succeed!"
So, are you ready to power wash your way to success just like Tru-Clean?
Hidden behind this simple, clean website is our entire marketing and sales dashboard we call Justine The Lead Machine.  If you'll notice it has super simple ways to reach out to Perry.
A phone number to call or text, a web chat to text, email, and a web form to get a free quote.  The powerful part of these seemingly simple ways of contact is that each one of them is attached to the marketing dashboard and when a potential customer's information is put in from any of them… it goes into the dashboard and lots of things can then automatically (or manually… your choice) start to happen.
Things like:
Say you miss the call.  Justine will automatically text that number back and say something like "Hey, this is Perry from Tru Clean.  I saw I missed your call.  What can I help you with?"
Start emailing them information on you and your services.  *hint* people like to know about the people as well as the services.
All contacts are saved in a database, or "list", so they can be emailed or texted at any time later.
Justine will then ask for reviews at a set time or anytime Perry clicks a button that is for asking a customer for a review.
And a ton more which you can see on our pricing page for Justine.
Not to mention we set up a Facebook ad for you too if you want!  #booyah!
Note: The marketing dashboard can be installed on just about any website whether we built it or not!
We can help! Our team of experts will create the perfect website for your business. We've included all the features you need to get started, from a contact form to a gallery of your work. Plus, we'll help you get started with online marketing so you can reach new customers and grow your business.
Ready for a new or updated website?  We can't wait to chat with you!
Just go to our Contact Us page and tell us what you are thinking, ask us a question, or just say hi.  🙂
Click here:  https://cherubinicompany.com/contact-us/
Get started today and see the difference our team can make for your business.